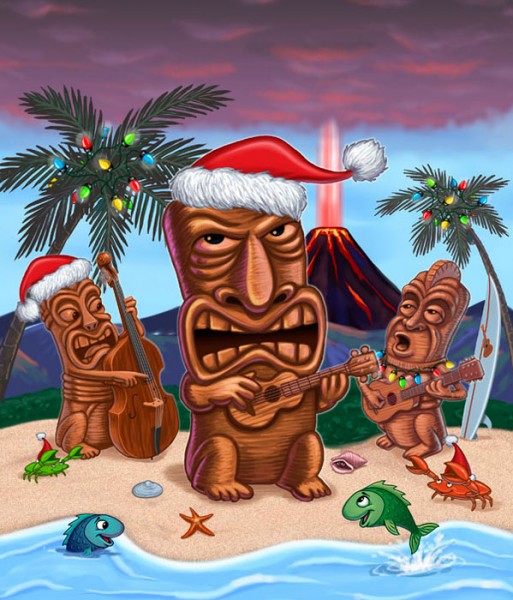 Before the inevitable onset of holiday fever, all of us at the South Shore Tiki Lounge wanted to share our gratitude for your loyal patronage to our little joint. Small businesses across the island are struggling and your support, no matter how small, makes a difference.
We hope you consider other local businesses during the holidays. Gifts for co-workers, friends, husbands and wives, parents, keiki, tutus and more can all be found right here.
Indigo Paia – Prints by photographer Daniel Sullivan or gorgeous textiles designed by Cara-Miya, this creative duo offer too many gifts to list here.
Maui Thing – Cool keiki and Maui themed clothing for the younger set in Wailuku
Requests Music – For music lovers, skip the iTunes gift cards and visit the knowledgeable gang over at Requests.
Mahina – Who wouldn't love a gift certificate to this boutique adored by many?
The Love Shack – Let our feisty neighbor Lila hook you up for some naughty holiday fun
Wings Hawaii – Handmade clothing now in Paia founded by 3 UH Manoa students.
Pink by Nature – Lovely home decor accents or clothing/accessories for your stylee girl or girlfriend
Jessica Pearl Photography – A family sitting with an amazing photographer will be treasured forever.
Classic Cruisers – For car lovers, why not tinted windows as a gift? Mike is the man!
Nani Pacifica – Jen has amassed a collection of all the local handmade bath and body treats. Visit her booth in Kalama Village right by the Tiki Lounge.
Maui Coffee Roasters – Perfect for a mainland relatives, gift some local coffee.
Treehouse Designs – Contact Shannon for the cutest purses on the planet.
While we are all the mood to give, don't forget the nonprofits that need your help like Kihei Youth Center or Maui Food Bank. If you can't donate money, donate time. Now is when they need it most.
Enjoy the holiday season and love to all our family & friends on the mainland and beyond!