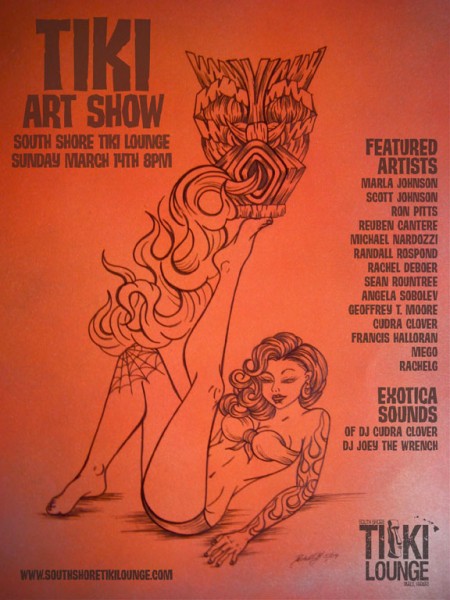 South Shore Tiki Lounge recently announced a call for entries for a tiki-inspired art show and received an amazing diversity of pieces including the digital paintings of Ron Pitts, pen and ink drawings of RachelG, painted silk hangings by Cudra Clover and a hand carved tiki by Scott Johnson.  
The Tiki Art Show will kick off on Sunday March 14th at 8pm with an opening party. Exotica DJ Cudra Clover will provide the perfect tiki lounge music with DJ Joey the Wrench closing out the evening.
Featured artists include:
Scott Johnson
Marla Johnson
Rachel  G
Ron Pitts
Reuben Cantere
Michael Nardozzi 
Geoffrey T. Moore
Randall Rospond   
Cudra Clover
Francis Halloran
Mego
Sean Rountree
Bradford & Nancy Holmes
Angela Sobolev
Rachel Deboer
Rachel Deboer, theater coordinator for the Source Arts Festival and director of the recent black light body painted dance show "Birth of Tiki" will be showing a slideshow presentation of pictures from this groundbreaking show presented at Source.   
South Shore Tiki Lounge has asked the artists to contribute a portion of any sales made to Kihei Youth Center. This crazy fun exhibit will run through May, but don't miss the opening party!
(Big thanks to Rachel G. for her "Hey There" pen and ink drawing for this flyer)